Security Lab research presented at Sunday's "Cool Jobs" panel at the Seattle Science Festival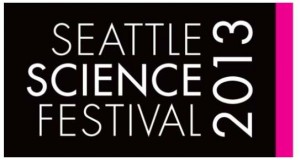 The 2013 Seattle Science Festival is the region's only large-scale, community-wide celebration of science and technology. It brings hands-on exhibits, shows, demonstrations and performances to venues throughout the Pacific Northwest. All events provide experiences that educate, engage and inspire an interest in science and technology and stimulate imagination and innovation. The festival runs June 6-16, 2013.
SSF features a "cool jobs" series where attendees can learn, first-hand, from successful and dynamic professionals in some of the most promising fields in science and technology. CSE's Oren Etzioni, Yoshi Kohno (Security Lab), and Helene Martin will join Code.org's Hadi Partovi in a panel that highlights the opportunities in computer science: this Sunday, June 9th, from 7:00 to 9:00 pm, at the Seattle Public Library (Central Library) in the Microsoft Auditorium. (The event is free, but registration is required.)
Additional information here.