Launching the Companion "Tech Policy Lab"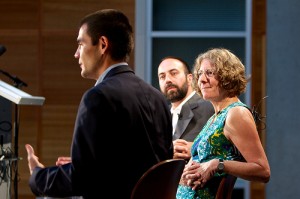 The UW Tech Policy Lab is a unique, interdisciplinary collaboration that aims to enhance technology policy through research, education, and thought leadership. The new venture — enabled by a founding gift of $1.7 million from Microsoft — brings together experts from the University's School of Law, Information School, and Computer Science and Engineering.
The Tech Policy Lab was launched Thursday evening at an event keynoted by University of Washington President Michael Young, Microsoft Executive Vice President and General Counsel Brad Smith, and Microsoft Corporate Vice President and Head of Microsoft Research Peter Lee, plus the three UW co-directors of the Lab: Ryan Calo from the School of Law, Batya Friedman from the Information School, and Yoshi Kohno from Computer Science and Engineering.
Learn more about the Tech Policy Lab here. See photographs of the launch event here. Read a Seattle Times article here.