Kiron Lebeck at Oakland 2017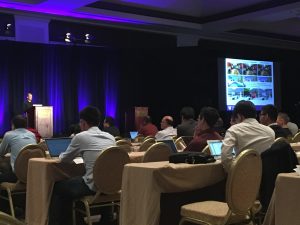 Today Security Lab PhD student Kiron Lebeck presented at the 38th IEEE Symposium on Security & Privacy (Oakland) in San Jose, CA. Kiron presented his paper "Security Augmented Reality Output", describing a design for an augmented reality platform that mitigates risks from buggy or malicious application output (e.g., virtual content that obscures a user's view of important physical world objects, like oncoming cars, or that startles a user). This work was done in collaboration with Security Lab undergraduate researcher Kimberly Ruth and faculty members Yoshi Kohno and Franzi Roesner. Congrats Kiron on a great presentation!
Read the full research paper here and learn more about the UW Security Lab's efforts on security and privacy for emerging augmented reality platforms here. This work was also recently covered by Science.