Miranda Wei presents at CHI 2023 and IEEE S&P 2023, passes General Exam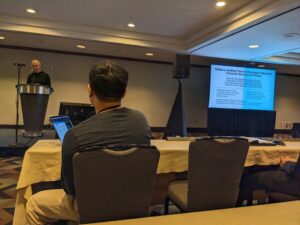 Congratulations to Miranda Wei for passing her General Exam today and officially becoming a PhD "Candidate"!
Her PhD dissertation proposal builds in part on her excellent work studying gender stereotypes in computer security and privacy, which she recently presented at the IEEE Symposium on Security & Privacy in San Francisco, and her work (and a wonderful collaboration with Google) studying advice for staying safe for hate and harassment online, which she presented at the ACM Conference on Human Factors in Computing Systems (CHI) in Hamburg, Germany. Congratulations, Miranda!!
Check out Miranda's papers here:
"There's so much responsibility on users right now:" Expert Advice for Staying Safer From Hate and Harassment. Miranda Wei, Sunny Consolvo, Patrick Gage Kelley, Tadayoshi Kohno, Franziska Roesner, Kurt Thomas. ACM SIGCHI Conference on Human Factors in Computing Systems (CHI), Apr. 2023.
Skilled or Gullible? Gender Stereotypes Related to Computer Security and Privacy. Miranda Wei, Pardis Emami-Naeini, Franziska Roesner, Tadayoshi Kohno. IEEE Symposium on Security and Privacy (S&P), San Francisco, May 2023.